Welcome! Since March 2022 and until December 2022, I am a Post­doctoral fellow at the University of Bordeaux under the supervision of Denis Benois as part of the GALF project.
From March 2021 to February 2022, I was a Post­doctoral fellow at the Università degli Studi di Genova working with Stefano Vigni. I was supported by the research grant « Ing. G. Schirillo » from the INdAM.
From August 2018 to December 2020, I was a Post­doctoral fellow at the Max Planck Institute for Mathematics. In Fall 2020, I was also a (remote) Post­doctoral participant of the program Co­homo­logy in Arith­metic held at the Centre de Re­cher­ches Ma­thé­ma­ti­ques in Montréal.
My Ph.D. advisor is Antonio Lei.
I am interested in Number theory, especially in Iwasawa theory, p-adic Hodge theory, Galois representations, and abelian varieties.
Contact & C.V.
Address
Institut de Mathématiques de Bordeaux
Université de Bordeaux
351 cours de la Libération, Bât. A33
33405 Talence CEDEX, France

Office
217
Tel.
+33 5 40 00 21 76

E-mail: gautier.ponsinet@math.u-bordeaux.fr
PGP Public Key: pgp (valid from 2022-05-20 to 2023-05-20)
C.V. : pdf
Articles
Submitted:
On Shafarevich-Tate groups and analytic ranks in families of modular forms, II. Coleman families, with M. R. Pati and S. Vigni, arXiv.
Universal norms and the Fargues-Fontaine curve, arXiv.
Videos of talks about it: YouTube (~1h), YouTube (~20min).
On the Iwasawa invariants of Kato's zeta elements for modular forms, with C.-H. Kim and J. Lee, arXiv.
Published:
On the Mordell-Weil ranks of supersingular abelian varieties in cyclotomic extensions, with A. Lei,
Proceedings of the American Mathematical Society, Ser. B, Vol. 7 (2020), journal, arXiv.
On the structure of signed Selmer groups,
Mathematische Zeitschrift, Vol. 294, Issue 3-4 (April 2020), journal, arXiv.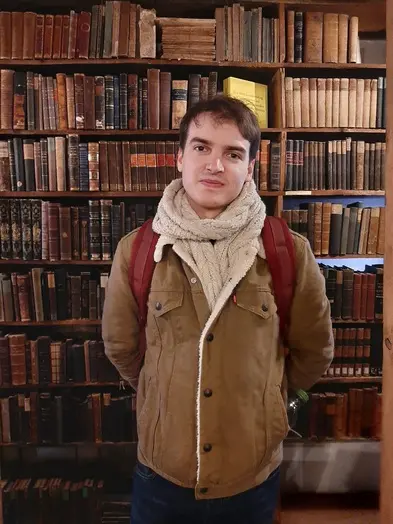 « Une pensée étrange me vint.
— Paulina, donne-moi seulement une heure, et… je reviendrai. C'est… c'est nécessaire. Tu verras. Reste ici, attends-moi.
Je m'enfuis sans répondre à la question qu'elle me jeta.
Oui, parfois, une pensée bizarre, impossible, s'enfonce si fortement dans l'esprit qu'on finit par la prendre pour une réalité. Plus encore, — cette pensée est fortifiée par le désir, un désir irrésistible et fatal.
Quoi qu'il en soit, cette soirée est pour moi inoubliable. Un vrai miracle, — bien justifié par l'arithmétique, mais un miracle tout de même. »